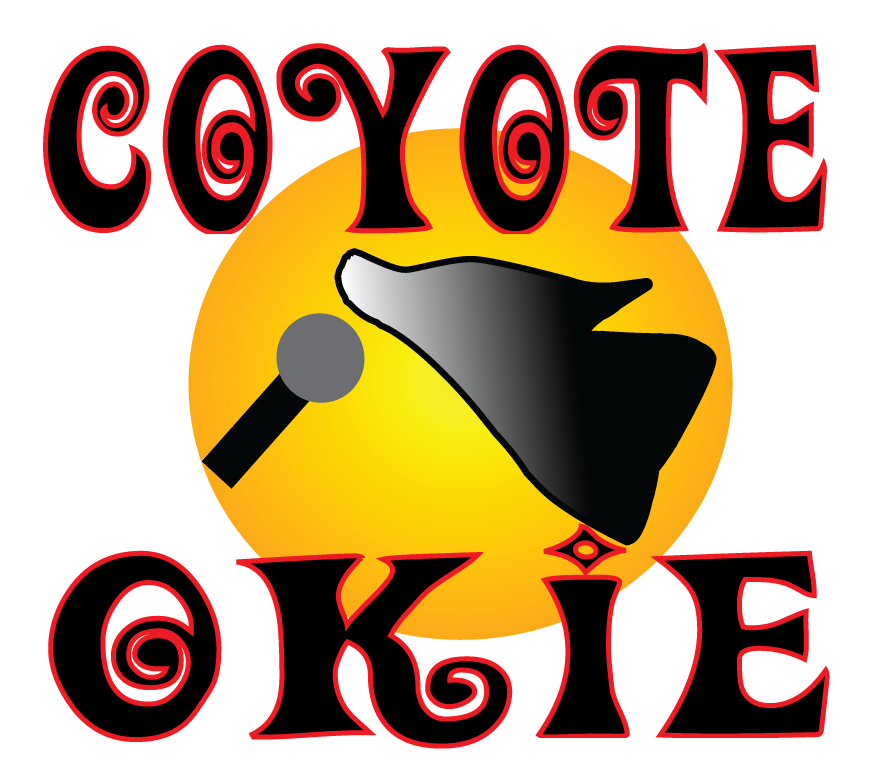 100.7 The Coyote, Galaxy Bowling Center and Champions Bar want to congratulate Debra Savage of Richmond! She is the winner of Coyote-Okie and $1007!
Week 8 (August 27, 2013)
*Due to technical issues beyond WCYO's control, only audio from round 2 will be available.*
April Jackson
Debra Savage (Winner)
Linda Amon
Naomi Wilson
Joe Applegot
Stephanie Broyle
Cody Kirby
Week 7 (August 20, 2013)
Donald Ray
Amanda Bishof
Michael Redd
Brandon Strickland
Erik Davig
Brad Robertson (2)
-Tie Breaker Song
Rick Fritz
Jeanna Kelley
Amber Stone
Alex Kleinhenz
Eugene Huff
Moe
Bonnie Harper (3)
April Jackson Winner
-Tie Breaker Song
Vickie Sipes
Susan Tuttle
Emily Land
Cameron Morgan
Michael Jones
BONUS: Steve & Valerie Bentley ft. Jeanna Kelley & Friends "Love Shack"
BONUS: Trizdon Reynolds & Bonnie Harper  "Sweet Home Alabama"
Week 6 (August 13, 2013)
Brad Robertson
Brad McKinney
Cassandra Brock
April Jackson
Tiffany Linderman
Zack Reese
Gail Palmer
Michael Redd
Donnie Horn
Bonnie Harper (2)
Tommy Brock
Stephanie Broyle (Winner)
Les Smith
Danny Mathis
Alex Kleinhenz
Jeana Kelley
William Kenneth Jackson
Josh Jackson
Erica Bullock (3)
Lawrence Parker
BONUS: Steve Bentley "I've Got A Tiger By The Tail"
BONUS: Trizdon Reynolds "California Love"
BONUS: Steve & Trizdon "Jackson"
Week 5 (August 6, 2013)
Danny Mathis *
Jeanna Kelley
Cowboy (2)
Paul Kitchen
Les Smith
Kent Wilson
Devin Rosenblath
Amanda Wheatley
Jeff Hamblin
Gary Michaels
Josh Jackson
Debra Savage (Winner)
Bud Robinson
Donna Webb (3)
Tress Spence

BONUS: Steve Bentley
BONUS: Trizdon Reynolds
*Due to technical issues, the first part of the song was cut off

Week 4 (July 30, 2013)
John Issacs (3)
Danny Mathis
Tony Mills
Audrey Clowers
Oneida McIntosh
Robert "Cowboy" Lynch
Debra Savage (2)
Jeana Kelley
Paul Kitchen
Joe Livengood
Les Smith
Bud Robinson
Nikki Strunk
Josh Jackson
Cody Kirby (Winner)
Brendan Strunk
BONUS: Steve Bentley & Joe Livengood Shania Twain "Man, I Feel Like A Woman"
BONUS: Trizdon Reynolds & Debra Savage Shania Twain "Any Man Of Mine"
Week 3 (July 23, 2013)
Bonnie Harper
Alysson Faulconer
Lester Smith
John Issacs
Kevin Edwards
Michael David
Twana Pendygraft
Danny Trent
Robert "Cowboy" Lynch
Linda Amon (Winner)
Joseph Livengood
Johnee Dee
Chuck Towery
Week 2 (July 16, 2013)

Chris Graves
Gina Kelly (3)
Joe Applegot (Winner)
John Isaacs
Kevin Edwards (2)
Melissa Johnson
Randy Coffee
Robert Lynch
Whitnee Broaddus
Willie Hull
Week 1 (July 9, 2013)
Lindsay Jehn (3rd Place)
Michael Reynolds
Rachael Whitaker
Travis Frazier
Amanda Wheatley
Ashlee Price (2nd Place)
Joseph Livengood
Josh Jackson
Paul Kitchen
Bud Robinson
Naomi Wilson (Winner)
OFFICIAL RULES:
1. ALL CONTESTANTS MUST BE AT LEAST 18 YEARS OF AGE AND HAVE A VALID KENTUCKY DRIVERS LICENSE OR OFFICIAL STATE ID TO PARTICIPATE. EACH WEEKLY CONTEST WILL BE LIMITED TO NO MORE THAN 25 CONTESTANTS.
2. ALL CONTESTANTS WILL BE CHARGED A $5.00 PRODUCTION FEE (NON-REFUNDABLE). THIS APPLIES FOR USING YOUR LIKENESS ON SOCIAL MEDIA WEB SITES AND FOR POSTING AUDIO/VIDEO CLIPS OF YOUR PERFORMANCE ON SOCIAL MEDIA SITES AND FOR POSSIBLE USE ON THE AIR.
3. NO DUETS OR GROUP SING IS ALLOWED.
4. ALL JUDGES DECISIONS ARE FINAL. SCORE SHEETS WILL NOT BE SHOWN & REMAIN PROPERTY OF WALLINGFORD BROADCASTING.
5. CONTESTANTS MAY BRING THEIR OWN KARAOKE CD IF IT IS DEEMED COMPATIBLE WITH THE DJ'S SOUND EQUIPMENT.
6. NO VULGARITY OR PROFANITY IN YOUR PERFORMANCE WILL BE ACCEPTED, AND RESULT IN DISQUALIFICATION IN THIS AND FUTURE CONTESTS.
7. RESPECT THE DJ, HOST AND JUDGES.
IN ADDITION, STATION CONTEST RULES APPLY
8. By entering, entrant agrees to hold harmless and indemnify Wallingford Broadcasting, and their respective parents, subsidiaries, affiliates, directors, officers, governors, employees and agents against any and all liability, damages or causes of action (however named or described), with respect to or arising out of either (i) entrant's participation, or (ii) the receipt or use of the prizes awarded in the promotion.
9. Wallingford Broadcasting is not responsible in the event of any technical difficulties with any equipment, including telephone equipment during any and all contests.
10. Wallingford Broadcasting is not responsible for any events beyond their control (acts of God, cancelled concert, artist or performer non-appearance, etc).